Welcome to Hyperbaric Oxygen – THERAPY HIGHLIGHTS
Hyperbaric Oxygen Therapy: Why It Is Worth To Be Aware Of Its Existence…
Why It Is Worth To Be Aware Of Its Existence…
Hyperbaric Oxygen Therapy, for the most part, has remained a nearly unknown treatment in the world of western medicine. There may be many reasons for this, but none more important than the lack of awareness on the part of some physicians and the general community.

With the advent of the information age, numerous websites are providing more and more information on Hyperbaric Medicine. However, the fact remains that Hyperbaric Oxygen Therapy is still almost as unfamiliar a treatment as it was prior to the birth of the information age.

Hyperbaric Oxygen is a drug. People need to become more educated about its therapeutic uses…
— Roque R. Wicker, CHT
The above words written back in 2001 are not less relevant today – a lot of people are not aware of Hyperbaric Oxygen Therapy (HBOT). It might happen, one day this awareness would become of a great value either for you or for your dearest like it has already done for a plenty of people…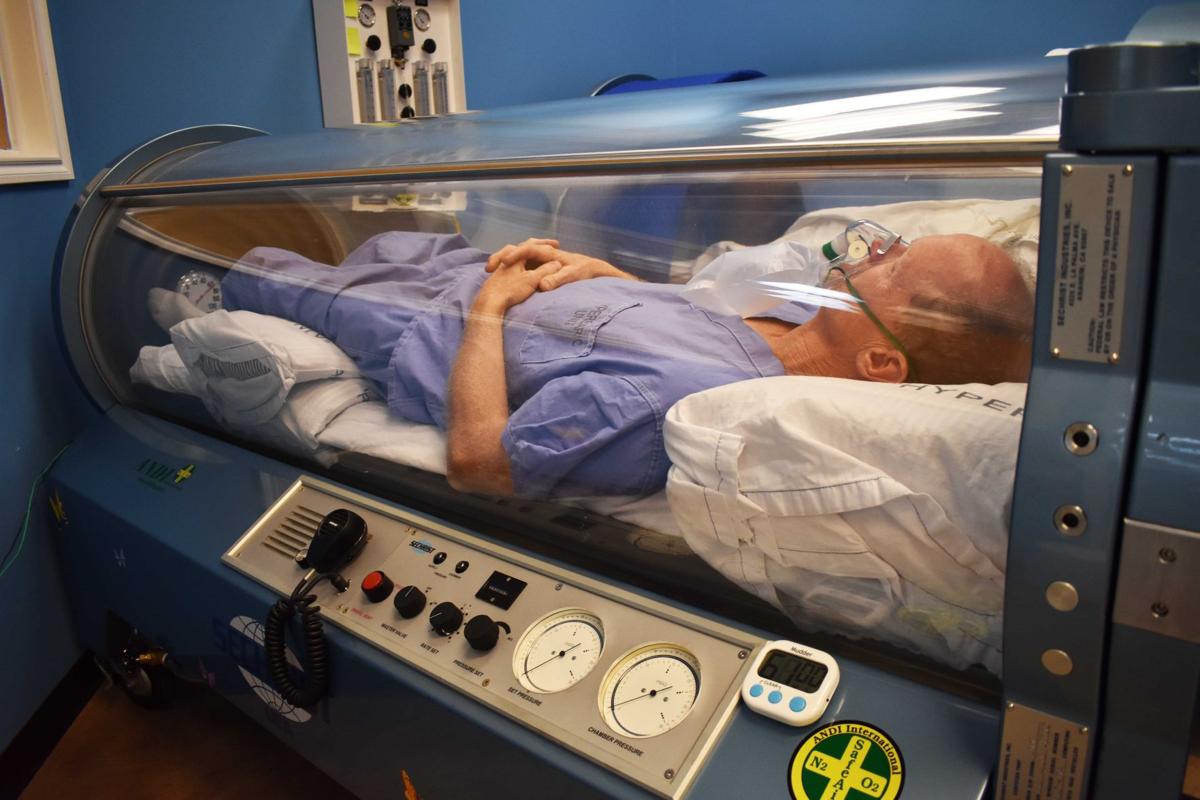 Some of us, like the owner of this website, might have experienced dramatic moments in life when the only thing on Earth which helped to ease sufferings of our dearest or our own was the oxygen.
Yet quite a few of us are aware of Hyperbaric Oxygen Therapy able to help effectively in a number of health conditions when healing effects of other therapies applied were not sufficient in a given situation…
The price of ignorance eventually would be too high, like in the story posted by Mr. Brodsky, a road accident victim. If he'd been aware of his injury and the Hyperbaric Medicine's existence 27 years ago, would he have waited for so long before having Hyperbaric Oxygen Therapy heal his brain?
"I feel as if I were born again as if I got a proverbial second lease on life. My multitasking abilities are coming back, as is my productivity and concentration, all of which lead to a great improvement in the quality of my life."

— Seva Brodsky, a road accident victim
HBOT is considered to be a medicine because oxygen under elevated atmospheric pressure acts like a drug doing things that under normobaric conditions (e.i. under normal atmospheric pressure) it wouldn't do. Most conditions associated with hypoxia or ischemia can benefit from HBOT. Learn more about HBOT indications and contraindications…
Among people who are aware of HBO2, hyperbaric oxygen chambers and benefits of hyperbaric oxygen therapy are Navies, Divers, Pilots, and Alpinists. And there is a reason for that. People traveling or working at high altitudes where the amount of oxygen is reduced due to a reduction in partial pressure of air, inhale less oxygen than needed to satisfy metabolic requirements of their body. Therefore hypoxia or altitude sickness is not uncommon among alpinists, divers, pilots, and firemen who should be aware of the risks and symptoms associated with these conditions.
Dear Visitor,
We hope this website will help to set your awareness of Hyperbaric Oxygen Therapy (HBOT). One of our primary goals is to introduce you the mechanism and positive effects of hyperoxygenation, the major healing effect of hyperbaric treatment. You can also learn about hyperbaric chambers, the history of hyperbaric medicine, physics behind it and other topics related to the role of oxygen in healing, rehabilitation and maintaining a healthy life.
So please start your journey here or follow one of the popular links below and keep visiting our website to see new articles, references, testimonials and relevant technology news…
Kind regards,
Administrator,
hyperbaric-oxygen-info.com
---
Latest Posts
On World AIDS Day, WHO calls for an end to discrimination
"If we want to have universal health coverage and eliminate AIDS and hepatitis, everyone should collaborate," Dr. Tedros Adhanom Ghebreyesus, WHO Director-General, said in a statement.
The World Health Organization (WHO) on Friday urged World AIDS Day that there should be no "discrimination" and the collaboration of all to fight against this disease.
"If we want to have universal health coverage and eliminate AIDS and hepatitis, everyone should collaborate," Dr. Tedros Adhanom Ghebreyesus, WHO Director-General, said in a statement.
"Health services should adapt to meet and meet the needs of the most exposed and affected populations and this includes a policy of zero tolerance of stigma and discrimination in all health services," Tedros said.
In the statement, the doctor asks "how is it possible after decades of recognition of the key role of communities in conducting HIV response, men who have sex with men, sex workers, transgender people, drug users and prisoners, who accounted for 40 % of infections by 2016, continue to face barriers to accessing the most basic health services. "
In addition, many young women, adolescents, immigrants and displaced persons are particularly vulnerable, according to Tedros.
However, the doctor acknowledged that "we have advanced a lot in the last 30 years" since "today 21 million people are receiving retroviral treatment against the disease that allows them to live full and productive lives."
"There are fewer people infected with HIV every day and there are fewer deaths as well, but these successes are hiding the many disparities and challenges that remain," he warned.
According to the Blind Spot report published today by the Joint United Nations Program on HIV and AIDS (UNAIDS), less than 50% of men with HIV are in treatment compared to 60% of women.
In addition, men are less likely to have access to HIV treatment and greater risk of dying from AIDS-related illnesses, accounting for 58% of the 1 million AIDS-related deaths in 2016.
Globally, 36.7 million people are living with HIV, of which 20.9 million had access to retroviral treatment by the middle of 2017, four times more than in 2000 and 1.2 more than in 2015.
Studies further show that men are more likely to start treatment late and to stop it.
"The response to HIV has played a key role in transforming public health and, in turn, influences the universal health coverage agenda," concluded WHO Director-General.
Scientists modify breast milk molecule to fight cancer
Scientists at the University of Graz in Austria have discovered that lactoferricin has regressed human cancer cells in rats.
A team of scientists from Austria has been able to modify a molecule derived from a breast milk protein to act as a cancer detector and attack malignant cells in certain types of the disease that are difficult to treat.
The research focuses on lactoferricin, a peptide (a type of molecule) in breast milk that was already known for its antimicrobial properties, according to a statement from the University of Graz in southern Austria on Monday.
What the researchers at this institution did was to modify this molecule to act as a detector for certain types of cancer that are difficult to treat, such as melanoma and glioblastoma, a type of brain tumor.
This modified lactoferricin is able to localize the negative charge of the phosphatidylserine molecule present on the membrane of cancer cells, adhere to it and cause its death, but without affecting healthy cells.
"The biggest challenge in the development process was finding the right balance between toxicity and specificity. If the peptides are very active, they also attack the healthy cells, "said Dagmar Zweytick and Sabrina Riedl, two of the research team, in the note.
Lactoferricin is a derivative of the lactoferrin protein, which is abundant in breast milk. Lactoferricin is part of the immune system and is one of the first defenses against foreign bodies such as bacteria and fungi.
The use of the substance in the fight against cancer requires a restructuring of its amino acids to achieve the right combination.
Results
The team at the University of Graz developed 15 variants of lactoferricin over four years of research. Two of these were used in rats to which human cancer cells were transplanted.
The scientists observed an average regression of 85% in the case of melanoma and 50% in glioblastoma, compared to animals not treated with the peptide. In addition, healthy rats treated with this agent were not harmed.
The Zweytick-led team is working on improving this agent and collaborating with a pharmacist in the preparation of clinical trials starting in 2019.
Researchers identify 5 types of diabetes
The discovery could be the basis for developing more personalized treatments to fight the disease.
A study by Swedish and Finnish scientists has identified five new types of diabetes, according to the medical journal "The Lancet".
The researchers looked at five groups of patients with diabetes who had " significantly different " characteristics, as well as "risk of different complications." Usually, as the publication indicates, there are two types of diabetes, 1 and 2, but 2 is often " very heterogeneous ."
Those responsible for the study say the finding could be the basis for developing more personalized treatments to fight the disease and identify those at a higher risk of complications at the diagnostic stage. In addition, according to scholars, type 3 of the disease is the most resistant to insulin and people who have a significantly higher risk of developing diabetic kidney disease (DRD) than type 4 and 5 diabetes patients.
In turn, type 2 of the disease is what most can lead to diabetic retinopathy, a major cause of blindness.
To compile the report, the scientists analyzed data from newly diagnosed patients with the disease.
"This new classification may help to adapt and direct the most advanced treatments for patients, which represents the first step for precision medicine in diabetes," the researchers conclude.
French doctor performs first surgery with augmented reality vision
Equipped with a special helmet designed by the American company Microsoft, the doctor was able to visualize the patient's skeleton and tendons in great detail.
French doctor Thomas Grégory performed the first operation in the world on Tuesday using a helmet with augmented reality vision, a technology that can contribute to improving accuracy in certain surgical interventions.
In the operation, which thanks to the new technologies was accompanied by three other doctors in the United Kingdom, South Korea, and the United States, Grégory placed a prosthesis on the shoulder of an 80-year-old patient, a rather delicate procedure.
"It was as if the patient's shoulder came to my eyes. All the help a doctor can expect in these conditions becomes reality, "said the surgeon, head of the orthopedic and orthopedic surgery and trauma department at the Avicenne Hospital in Bobigny, just outside Paris.
Equipped with a special helmet designed by the American company Microsoft, Grégory was able to visualize the patient's skeleton and tendons in great detail thanks to a series of x-rays and other imaging tests performed before the operation.
Thanks to this device, surgery can be performed with millimetric precision, an important advantage in delicate procedures like the placement of prostheses.
In addition, those responsible for the experiment emphasized that the new technique minimizes the risk of infection.
The helmet allows the use of holograms representing different parts of the patient's body and also determine the exact thickness of the tissues and the concrete site of nearby organs that remain invisible in a normal operation and therefore may be affected.
In addition, the doctor can consult the patient's medical chart directly and even consult colleagues who accompany the operation in real time.
Grégory compared the "leap" that represents this technology with "the passage from the encyclopedia to the search engine of the internet," because, thanks to the digital revolution, "limits human error ."
"The technique will allow us to standardize this type of operation and thus reduce the risks," said Grégory, who said that when its use becomes widespread "it will be the same as switching from aircraft in the Saint-Exupery era to current flights commercials ".
The doctor recalled that the success of some operations depends on "millimeters" and that the technology can also be applied in vascular surgeries in the brain, the most delicate.
Augmented reality technology is already used in military aircraft cabins and in some home electronic games.